NeoModern / NeoClassical / NeoBanana / Yuko Ohigashi / Alanis Morrisette / Gerry Rafferty / Cold Chisel / GothCalifornia.mid / Prokopetz / GothCountry / Metallica / Deep Purple /
Linda Lorraine Gloves...
is a source of custom designer gloves for both fashion and RSI clients. Linda has degrees in art and fashion design and has manufactured gloves for more than 13 years. She welcomes custom orders for fashion, wedding, and orthopedic gloves.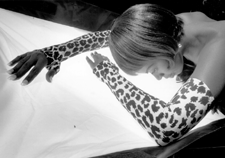 photo by Kevin Warnock, model: Dee Russell
"Gloves are sexy... "
Anyone who spends time watching TV or attends the theater and musical events is familiar with the bold, innovative designs of Linda Lorraine. Her trademark mix of sleek sophistication with quirky motifs has made her gloves a staple at fashion, art, theater, and dance events. She designed the white silk gloves for Rebecca de Mornay's Academy Awards presentation outfit, and the purple silk gloves for Joan Collins' Golden Globe award. She created custom gloves for Goldie Hawn, in "Death Becomes Her", and Raul Julia, in "Streetfighter&quot. She has also created gloves for Jeff Bridges and Leeza Gibbons in other movies.
Custom made orthopedic gloves...
Linda Lorraine has worked with hand specialists, occupational therapists, and doctors at medical facilities such as the RSI (Repetitive Strain Injury) Network, Stanford University Hospital, Davies Medical Center, and the Petzold Memorial Center to create gloves for people suffering from a variety of problems including RSI, carpal and ulnar tunnel syndrome, and tendinitis.
---

Updated 10/14/00 using VirtualNotepad2000Pro